As indies we love it when publishers or developers release figures. It's usually very insightful to see how much a title sold and where most of the sales came from. This post does something like that, though at this point in time we are still loathe to release actual figures, we can at least show sales curves and look at some percentages. Maybe in the future we'll show cold, hard figures but for now you'll have to do with mere coloured lines, I'm afraid.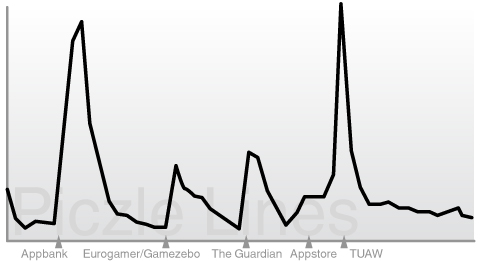 When we released Piczle Lines in July it was off to a slow start. The above image shows downloads of the free, main game (available
here
). We tried our damnest to get some media attention but aside from a nice little sales spike we received from a review on
iEvolution
we were feeling pretty defeated. As mentioned in previous blog posts, we pretty much failed our marketing push on Twitter, as we had simply underestimated it as a tool. Our first major download spike came, out of the blue, from a review on the Japanese site (and popular Tweeter)
Appbank
.
Other noticeable peaks occurred when
Eurogamer
and
Gamezebo
gave Piczle Lines fantastic reviews, and when
The Guardian
newspaper listed it in their game section. Though very grateful we were interested to see how "traditional media", like a newspaper and review sites had an impact, though still noticeable, that was less extreme than a popular Twitter account. This bore out again later that month when we were listed on the Appstore's "What We're Playing" section; something we hoped would propel us up the charts. It caused a small increase which was dwarfed soon after by a review on
The Unofficial Apple Weblog
, which has a well-read Twitter account, and caused a series of re-tweets for at least a week.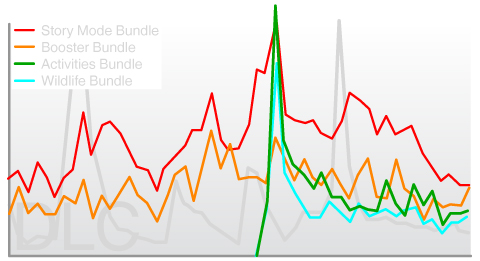 Our tactic of roping in new players by giving away a generous dose of free puzzles worked well, as the sales of the extra content has been going a lot better than we could have hoped for. The biggest seller is the Story Mode Bundle, containing the 5 final chapters that make up
the story of the game. Whether this is because people liked the story mode, or whether it is because the pack had SLIGHTLY more puzzles than the others is not clear, but according to the buzz it seems the story mode was a great success - people seemed to really like it!
Predictably, the sales peaks for the DLC are about 2 to 3 weeks behind those of the free main game. In the image above you can see the light gray line of the free app's sales peaks
(not to scale!!)
. If this bears out we should see another peak soon, following the most recent
boost in downloads from the TUAW review.
When we released the second batch of extra content they sold well almost immediately. We think this is because they were released roughly round the time most people would have bought and finished the previous puzzle packs. So far the Wildlife Bundle has been selling second best, making us think people enjoy the relaxing puzzles but are mostly interested in challenging, bigger ones.
The image below shows the downloads versus the DLC sales in proportion.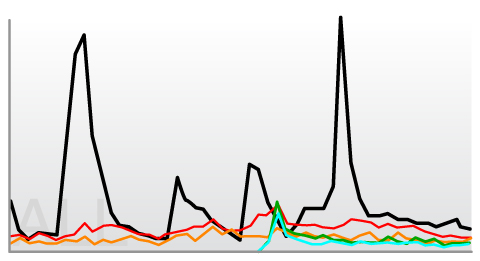 It's hard to figure out whether people bought one or all bundles, we'll take the figures for the most popular one (the story mode bundle) and calculate that our conversion rate is roughly 10%. At the peak it seemed higher but we assumed this figure would be dropping over time. That said, at its current level we're still pleasantly surprised, considering "game industry truism laws" told us to expect 1%.

The above image shows our DLC sales, which corresponds almost exactly with our downloads of the free base game, according to territory. Sales in the UK were heavily influenced by the mention in the Guardian newspaper, which incidentally saw the highest increase in tweets from Ireland. The Appbank tweet has helped us penetrate the Japanese market, which has seen a very steady flow of sales since. Apparently no one region is more or less likely to purchase our DLC than any other.
That said, even with a critically acclaimed FREE game, containing, if we say so ourselves, an extremely generous dose of free content, it's still incredibly hard to get noticed on the Appstore. We have to rely on popular sites and tweeters for occasional spikes in sales, which push us up the charts on the Appstore only to drop out again when a few days have passed since the mention. Until we get a few mentions in a row, causing a slightly prolonged increase in downloads, do we have any chance of making that ball roll. Until we somehow manage that, we have to continue to work hard for exposure.
While we do that, we've been extremely busy with other exciting things too, but nothing we can publicly boast about right now. Keep an eye open for more Piczle Lines things soon, though!!