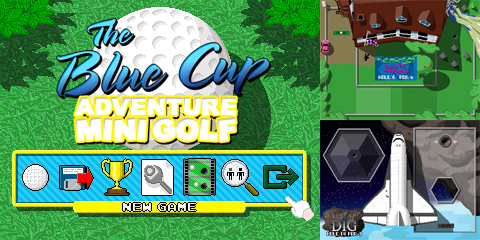 It's a little heartbreaking almost to go through old backups and folders and see all the work I did on hobby projects that ultimately never saw the light of day. I remember this blog entry's game for the "Games That Never Were" gallery well as it dealt with some of my fondest memories: point & click adventure games.
Again working with the excellent
Adventure Game Studio
, an ex-colleague of mine who was an active participant of the community there had created a simple physics-type plug-in with which users could create, for example, mini-golf games. In fact, the demo he posted, if memory serves, of the plug-in, was of a mini-golf type game.
Looking to be creative and busy again in my spare time I cajoled him into a project we'd do together; I'd do the art and he'd do the programming, mostly using his plug-in. As it was still Adventure Game Studio (AGS) and the main audience, the community there, were ardent adventure game fans I thought it'd be cool to create a course of 18 holes of mini-golf based on the various famous (and less famous) point and click adventure games of the day. The first hole would be based on the AGS semi-official mascot logo a blue cup. That left 17 holes to fill in with classic adventure game design. Looking at a text file in my old back-up folder the line-up was more or less the following: King's Quest, Secret of Monkey Island, Space Ques, Indiana Jones Fate of Atlantis, Day of the Tentacle, Zak McKracken, Leisure Suit Larry, Police Quest, Full Throttle, Grim Fandango, Sam & Max Hit the Road, Manhunter, The Dig, The Colonel's Bequest (Laura Bow), Loom, Freddie Pharkas and Gabriel Knight. All games I had lovingly played and had fond memories of.
The playable area, as well as the slopes north, east, south or west had their own specific regions that could be copied and pasted or imported from image files, so I'd supply these as well, alongside "walkbehind" areas, for when the ball would go underneath some, say, foliage, and shadow areas where the ball would slightly dim, to give a nice lighting effect and anchor the ball to the course visually. Then there were animations, like smoke, clouds, purple tentacles and lava, for example, all prepared in sprite sheets.

An example of a hole and the areas for the course and slopes on the right.
Looking at how many courses I had actually completed, alongside all of the front-end and UI it's a little surprising, and saddening, to have to ask myself why it was never finished. To be honest I don't entirely recall. Maybe my "partner in crime" got very busy, which wasn't unlikely. Maybe I did. Maybe he got rightfully sick of being called my "partner in crime". Regardless, when two full-time game developers start a hobby project it is likely it won't get finished and paid work will get in the way. Especially with this particular person there is a future blog entry with yet another game that sadly didn't quite make it...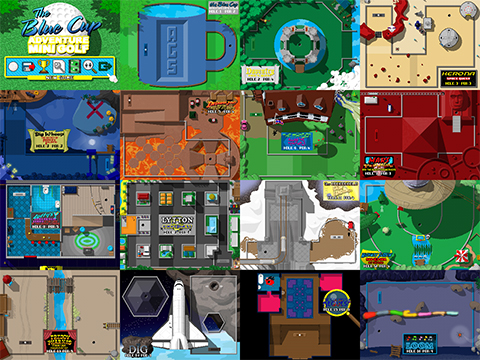 All the completed holes. Click image to embiggen.